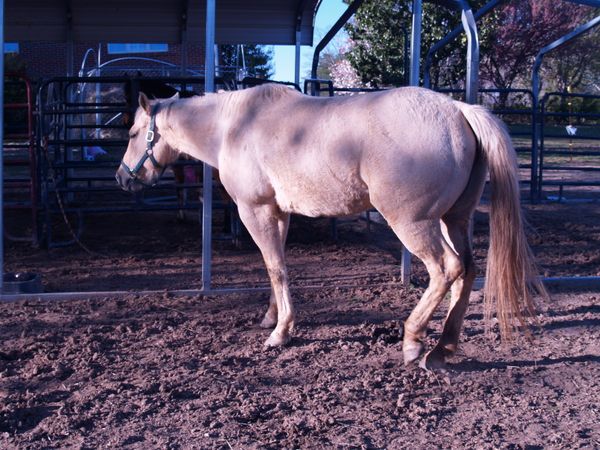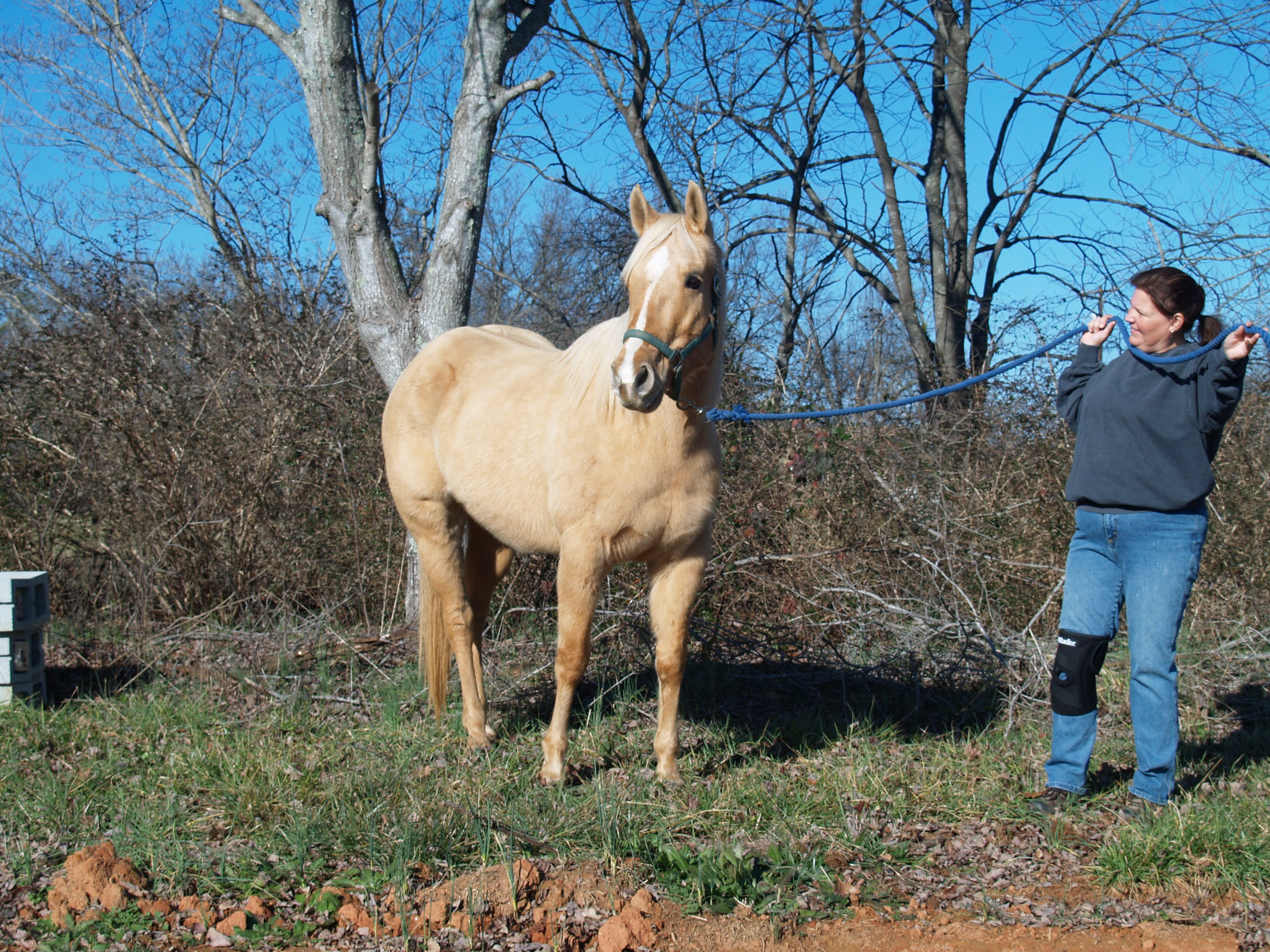 Petes Honey Seeker aka Honey

2004 Palomino AQHA

www.allbreedpedigree.com/petes+honey+seeker

We recently aquired this lovely little mare.  She is just as sweet as her name

implies.  We're sure with a bit of training she will make a GREAT kids horse.

Honey will be out on a breeding lease for a 2013 foal at www.blueridgewelsh.com/.  We can hardly wait

to seewhat a great Little foal she'll make.


SHE'S HERE!!!!
Honey foaled this gorgeous buckskin filly 5/10/13

Sired by Rosmel's Notorious(welsh)

CONGRATULATIONS! to Blue Ridge Welsh on this wonderful filly.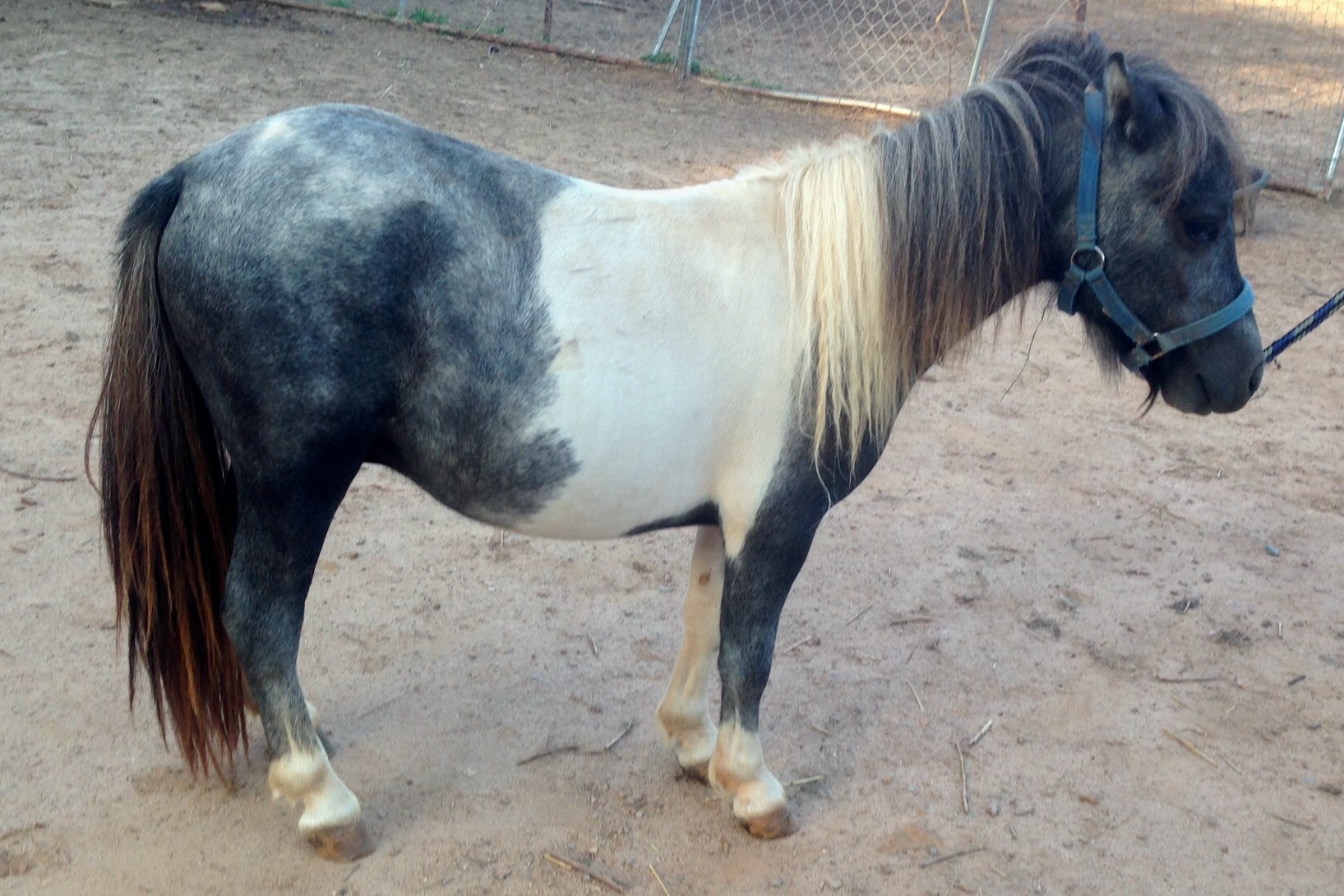 JIMMY DEANS APACHE KID

2013 AMHA/AMHR Grey and White Tobiano Colt

Everette's Pedigree
Everette is a wonderful example of the very versatile Stock type mini. He has lovely conformation

and even better temperament. He is just aching for someone to take him to the shows.

Everette would make a fantastic Youth or Amateur horse.
He learns quickly and really wants to please.
Everette is handled daily so stands tied, leads, gets his feet trimmed etc. He is also well socialized
with both horses and people.
Everette should stay around 29"-30". His dam is 33" with her sire standing only 29".
Everette's sire also only stands at 29" tall.
Everette is another one that will now be enjoying a hormone

depleted life. Less hormones means more LOVE though!
SOLD!
Everette got his very own little boy!!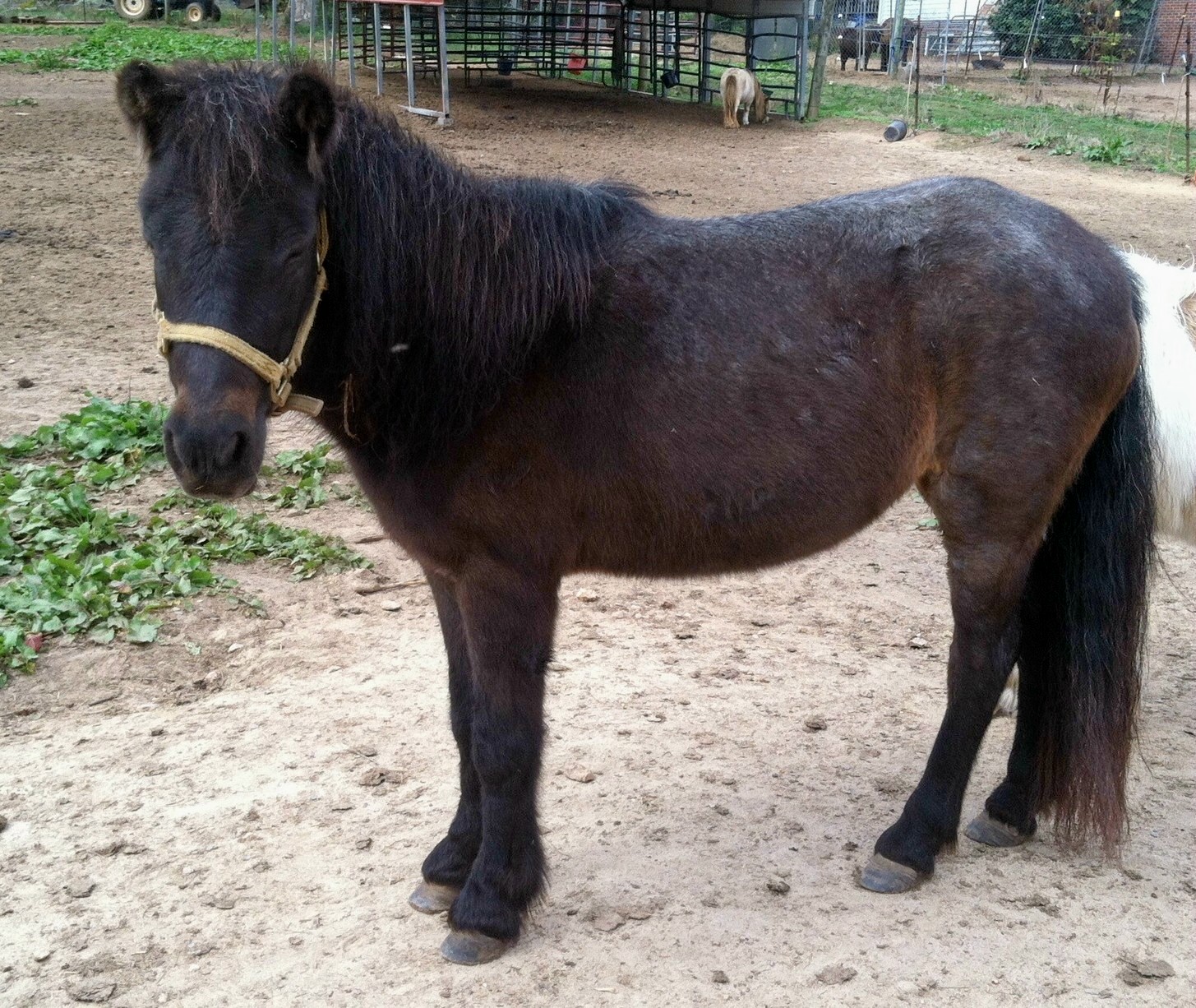 Bailey

This pony is truly a gem. She stands right around 11.0 hands and is

a lovely Blue Roan color in the summer.Bailey is about 15 years old

so she has lots of good years left. She is very healthy and has

great feet. Bailey has no need of special supplements or foot care.


Bailey is currently in training to both pull a cart and for riding.

She is a really good girl that really wants to please.
Tack including cart and harness is available at additional cost to buyer.
 CURRENT PRICE $1500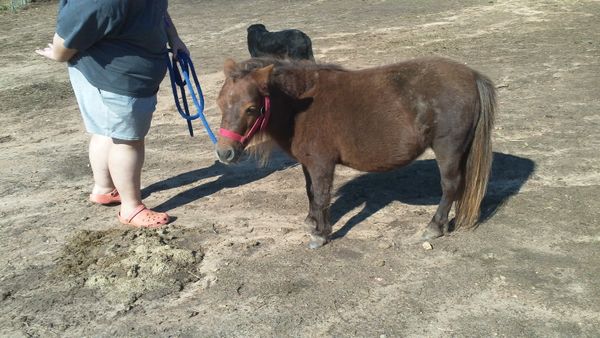 JIMMY DEANS ONEIDA

2003 AMHA and AMHR 30"

Sire : Jimmy Deans Fussbuster

Dam : Dell Teras No Sweat

www.allbreedpedigree.com/jimmy+deans+oneida
Mary is very sweet. We have no reason to keep this little girl but

we just can't seem to let her go yet. We're not what we're going to do

with her though.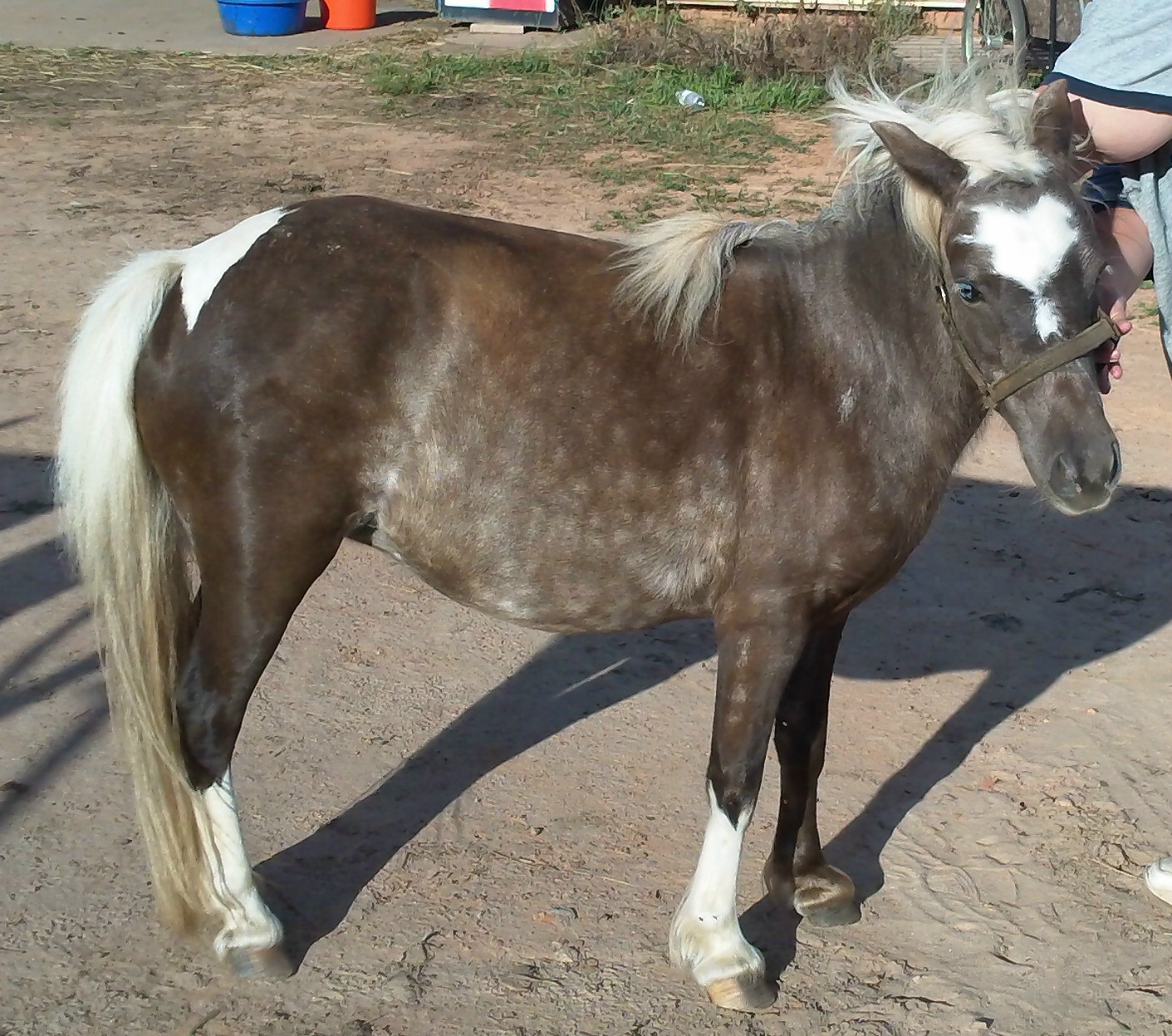 JIMMY DEANS CHENILLE

2002 Silver Dapple Tobiano
Reg. AMHA and AMHR 33.50"

Chenille's Pedigree

We call this sweet little mare Nillie. She really never knew that humans

were good for anything until she came to our farm. She has learned fast

that not only do humans have hands for itching those hard to reach places

but they also have Cookies!

SOLD!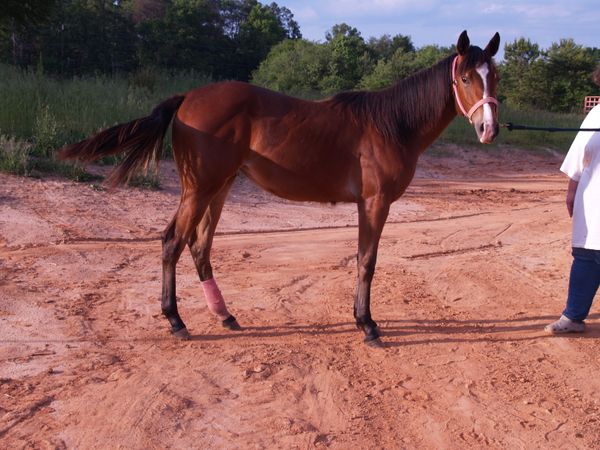 Regal Serenity
2010 Bay AQHA

www.allbreedpedigree.com/regal+serenity

Barbie is an awesome young mare.  She has been through soooo much in short

life already.  Just after weaning Barbie got her left rear leg caught in the electric

fence.  Fortunately for her, she did this while we were watching and could get

to her quickly.  Unfortunately we weren't fast enough.  In less than ONE minute

Barbie completely severed her Extensor Tendon.  This happened in Oct 2010.

Her prognosis was good but cautious.  Six months of stall rest with daily bandage

changes was first prescribed.  She could move the leg forward as long as it

was wrapped at this point.  In just Eight short weeks she was healed enough

she could move the leg forward unwrapped and was released to hand walking

in the barn aisleway.  By the end of January 2011, Barbie was cleared for

30 minutes of hand grazing.  The first week of March 2011 was a fantastic time. 

Barbie could finally be turned out for short periods in a small paddock. 

She still had a small open wound that needed daily bandage changes but was

otherwise WAY ahead ofschedule.  As of Mid-June 2011 Barbie was back to full

turnout with her age mates.  She is very sound moving forwards or backwards. 

Moving sideways causes her to short step for a pace or two then she moves fine. 

The wound is now closed although the skin is very fragile yet.  There seems to VERY

little scarring and there is hair on all of it. 

Barbie has continued to grow and thrive through all of the recovery.  Our vet is

sure we've been feeding her fertilizer.  At a year old she stands 14.0 hands

and is getting ready for another growth spurt.  This filly never had a down day.

She was and is always sure she can do whatever she puts her mind to.

When Barbie was born I was sure she was destined to be Emily's Youth

All-Around horse.  I was just as sure that dream died the day of Barbie's

injury.  I think Barbie has taught me to have more Faith and Patience in our

horses....especially the young ones.

Barbie was measured in the beginning of July 2011.  At the withers she was 14.1 hands

and at the rump she was 14.2 hands.  She has been measured again at the beginning

of September 2011 and now stands 14.2 hands at the withers and a full 15.0 hands

at the rump.

Our vet has cleared Barbie for ground work to begin her under saddle training.

She is right on the same schedule as if she was never hurt.
Update July 2013

Barbie has had a full set of X-rays and evaluted by the vet.

She has been cleared for ANY and ALL riding! No restrictions!

This is fantastic news for a filly we wondered if it may have been

kinder to put her down when the injury happened. Her future just

got much much brighter!

Barbie has been growing and changing as all babies do. As a

yearling, she was the spitting image of her sire. Now as a three

year old, each day she looks more and more like her dam. Barbie

is going through another growth spurt. She is obviously going to

be over 15.0 hands since that is where she currently is. Where she'll

stop.....probably somewhere between 15.0 hands(dam) and 16.2

hands(sire).  ;)
Current Price: $SOLD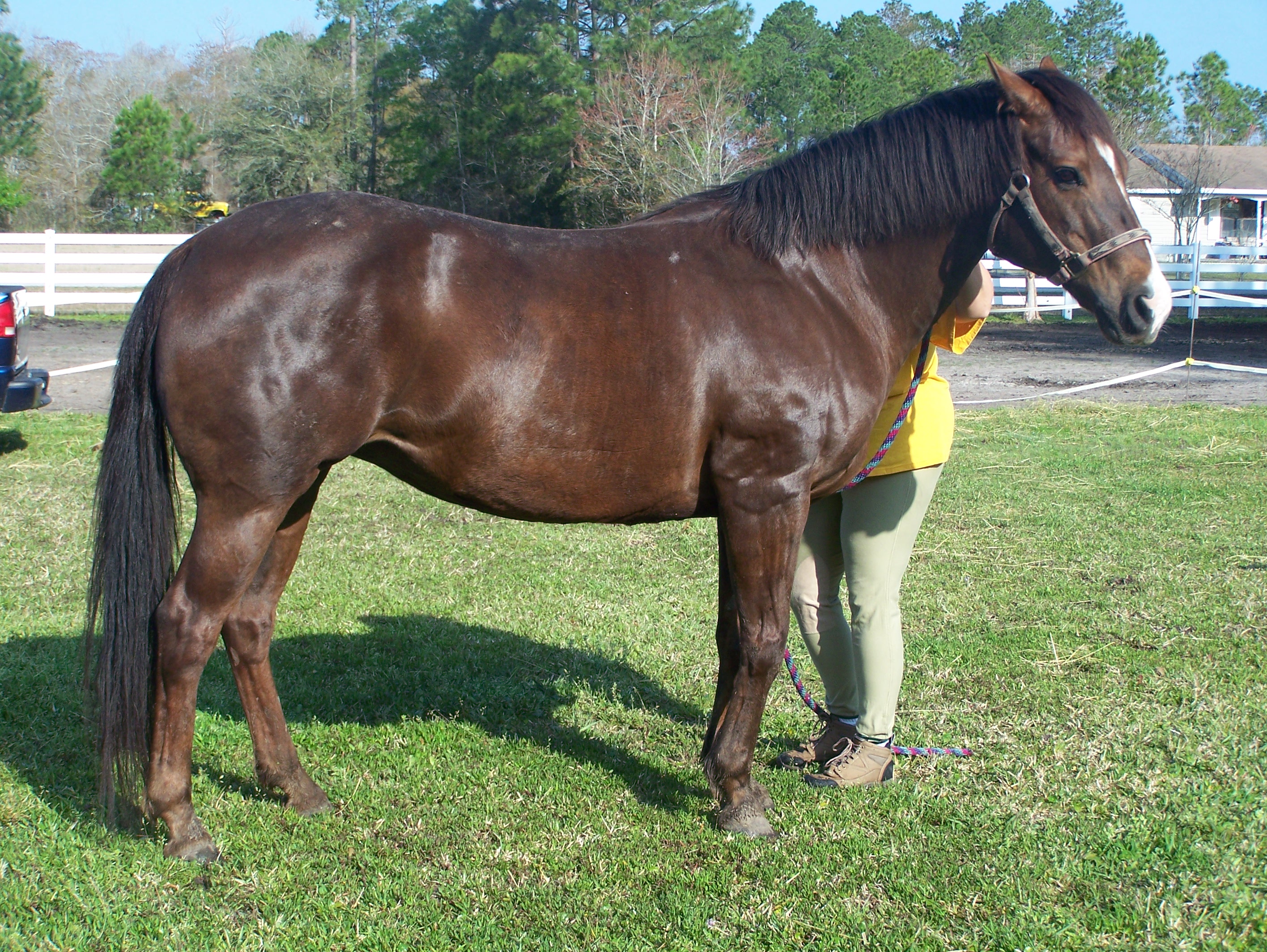 LANES LUCKY SUNSHINE


Brandy was used on a ranch to move cattle before we got her. Somewhere

along the line she was injured and is now only broodmare sound. She rules

the roost at our Florida barn and makes sure everyone toes HER line. 
 

My foundation calculations for Brandy

NFQHA  87.6%
FQHA  96.4%
FHR  100%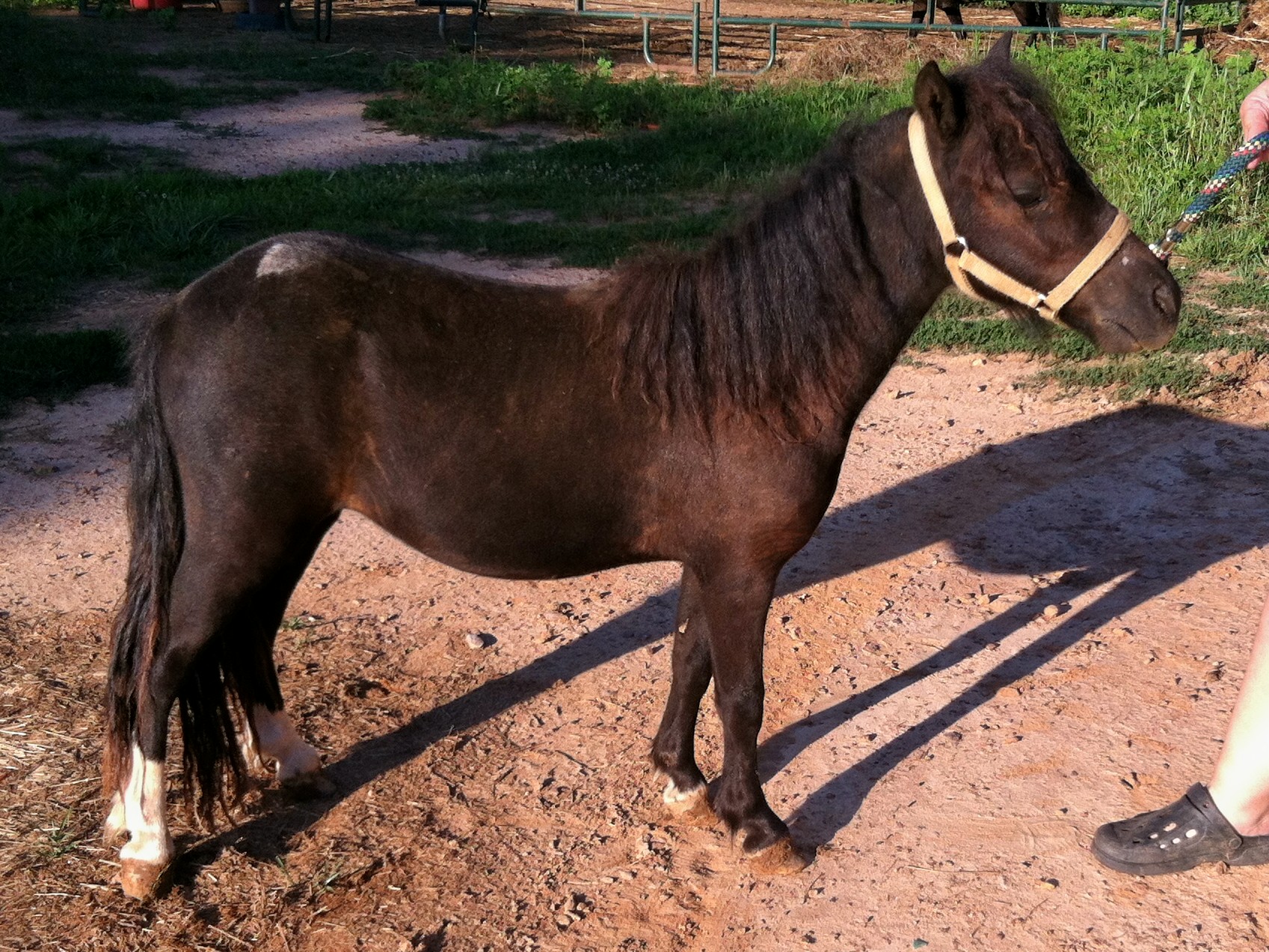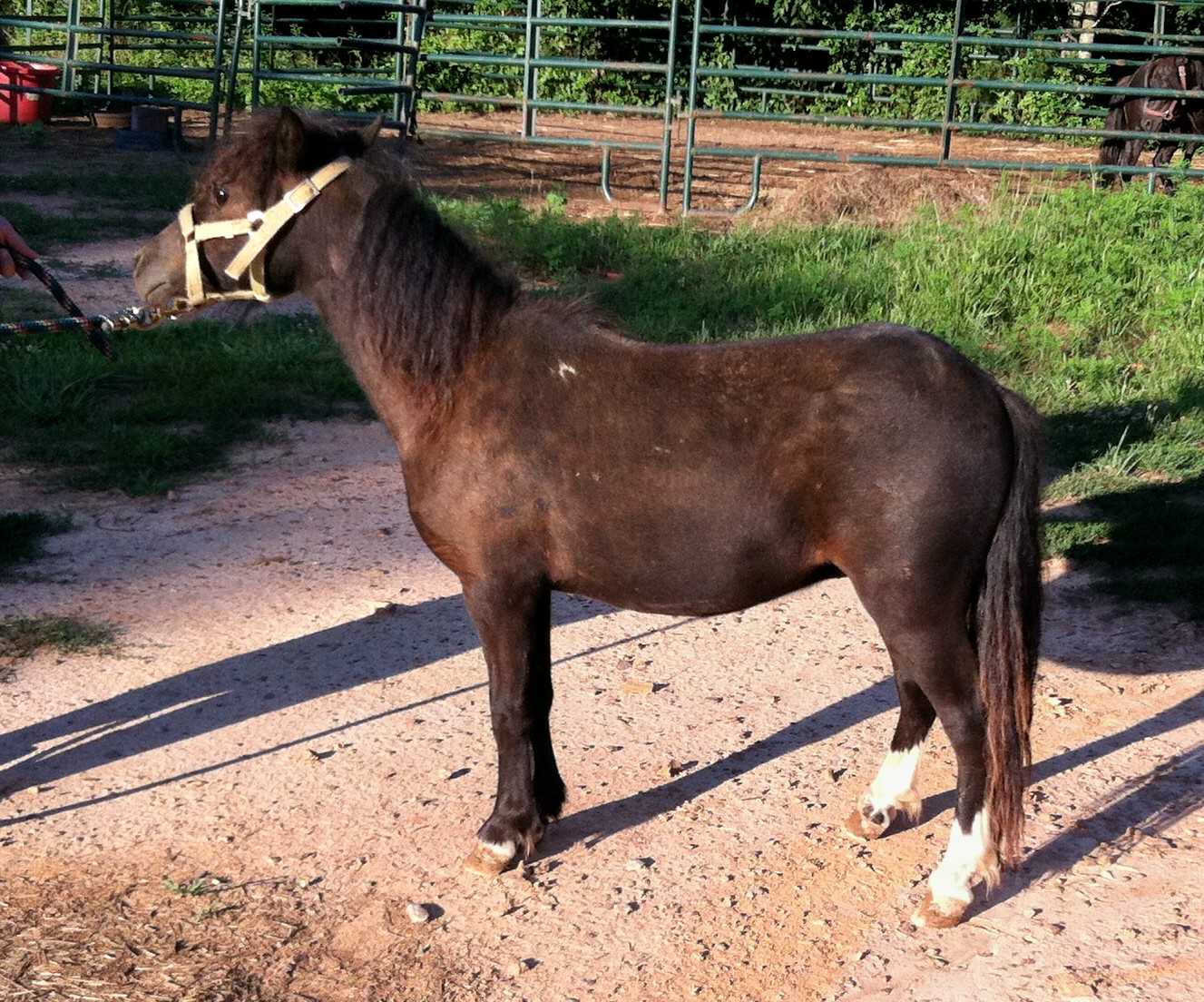 Jimmy Deans Apache Sun

2013 Black Pinto Colt

Elliot's full pedigree
We have named this cute little colt Elliot. He has come a very long way since he came

to us. There is something about him that just makes you want to hug him. Elliot now walks very well

on a lead, stands tied, gets his feet trimmed, gets groomed and clipped. He now has a very solid

foundation for more training as he ages. He is currently registered as solid but he definitely

has a couple of spots that were missed under his foal coat. We will be getting that correct soon.

Elliot's dam, Jimmy Deans Wapeka, stands just 32" tall while his sire, Gum Branch Apache Rebel,

is a mere 29" tall. We are pretty sure that Elliot will easily stay under 32".



Elliot was another special guest at our "Gelding Party". He really

deserves a kid of his own so we've helped that along a bit.




Current Price: $SOLD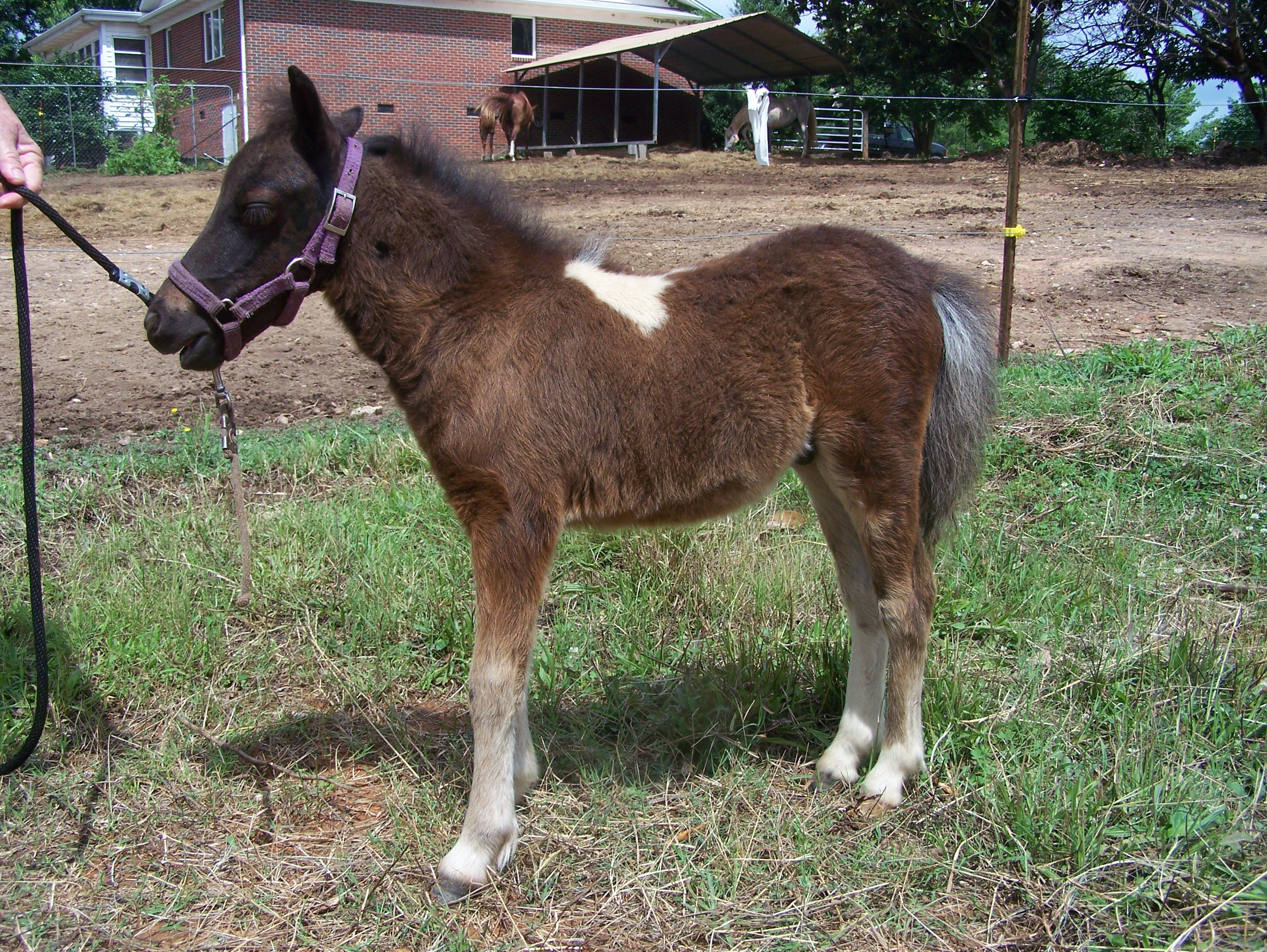 2 Mini 4 Ft Cookiebuster Ten

2013 Dark Bay Tobiano colt reg AMHA

Ernie is a shining example of a future show winner. He is the whole package.

The first shows are here and Ernie is ready to go! He will make his presence

known shortly. We found a truly outstanding colt under his winter coat. Ernie

is very easy to handle even by children and novices. This is a great

opportunity for an Amateur or Youth to own a high quality horse at a

very reasonable investment.

"News Flash!" We had a gelding party on 10/23/14 and guess who was

invited?! That's right Ernie is now a Gelding.




CURRENT PRICE $SOLD
GOTSILVERS DOLARSEYE
www.allbreedpedigree.com/gotsilvers+dolarseye
March 8, 1999 Buckskin AQHA mare
We call this sweet mare Ivy.  She has the kindest eyes ever.  
Ivy is an easy breeder/foaler and is an excellent mother. We've never
had a problem with Ivy while working with one of her foals. She
produces foals with a HUGE hip and good heavy bone. These foals
make superior Ranch/Rope/Cow/Reining type horses.
Ivy is green broke to ride and seems to enjoy having a human of her own.
She never bucked or bolted. She was a bit nervous about someone
suddenly taller than herself but got over that quickly. We have decided to stop
breeding AQHA and APHA so we are reducing our herd of broodmares. Ivy is young enough
to have another career other than a broodmare so we are offering her for sale now.
Ivy is currently open due to our choice of not breeding. She can be bred to either of
our stallions at the buyers request for a reduced stud fee.
    I recently did some calculation to get an idea of how much blood each of our horses
carry.  Here are my results for Ivy. 
National Foundation Quarter Horse Assoc.  84.5%
Foundation Quarter Horse Assoc.  90.7% 
Foundation Horse Registry  96.9%
Current Price open: $SOLD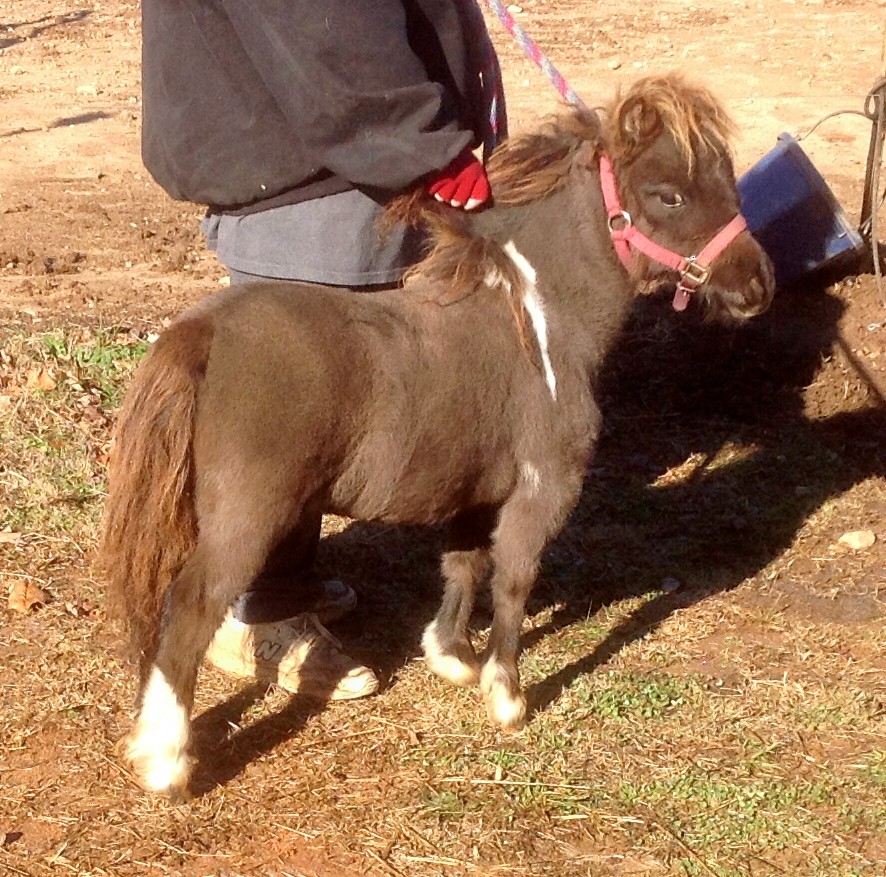 Jimmy Deans Apache Mist

2013 Black Tobiano filly Reg. AMHA pending AMHR

Enya is the cutest little girl. She would make an awesome team mate in a driving

pair with our Ernie. The two are marked in a mirror image of each other.
The only

problem is Enya is TINY even compared to other minis.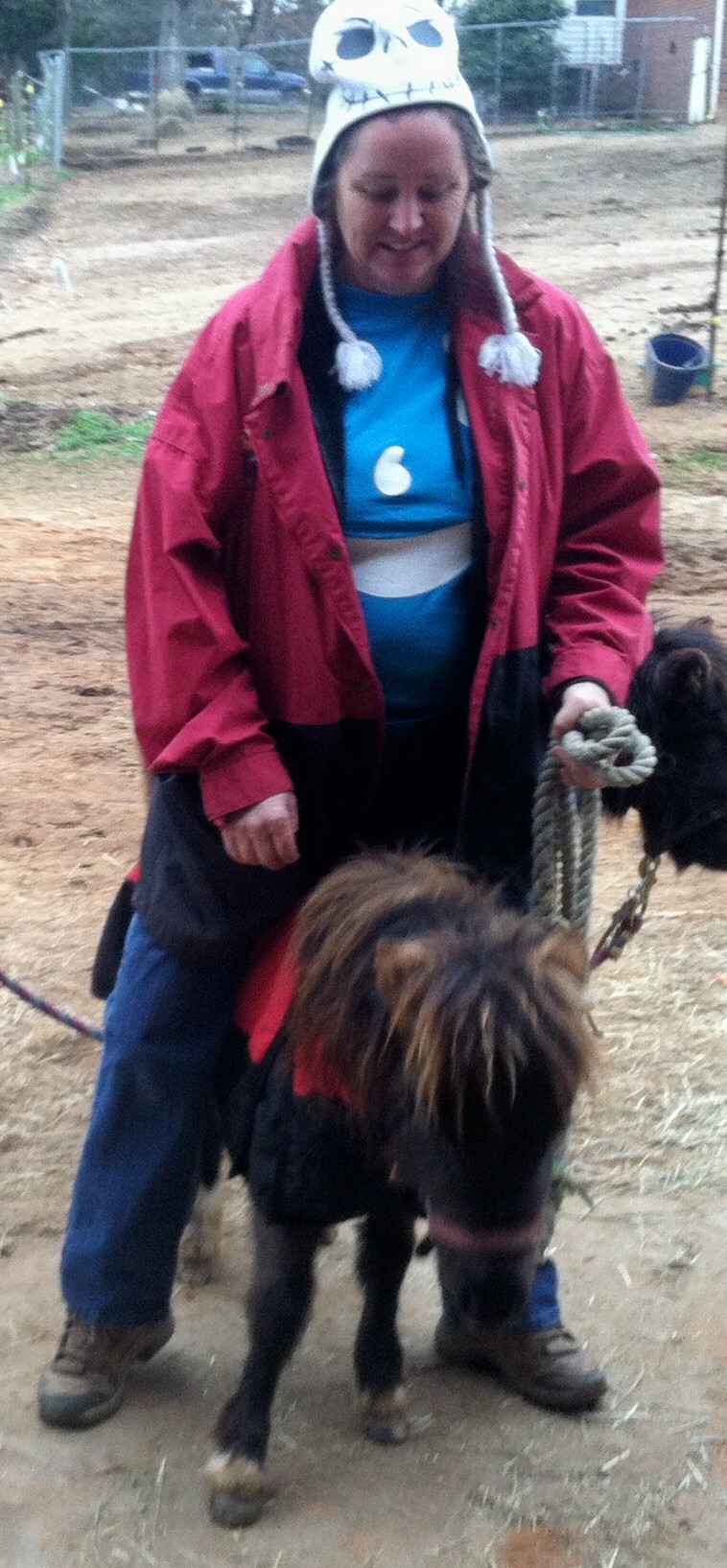 This is Enya at 7 months
old. I am standing over her with room to spare. In my shoes, I might
stand 5'5" tall.
SOLD!!!