Hot diggity Dog!! The 2014 show season was a good one for us.

The mailman brought 4 National All-Star Top Ten Awards this week.

Three of them were Top Five awards.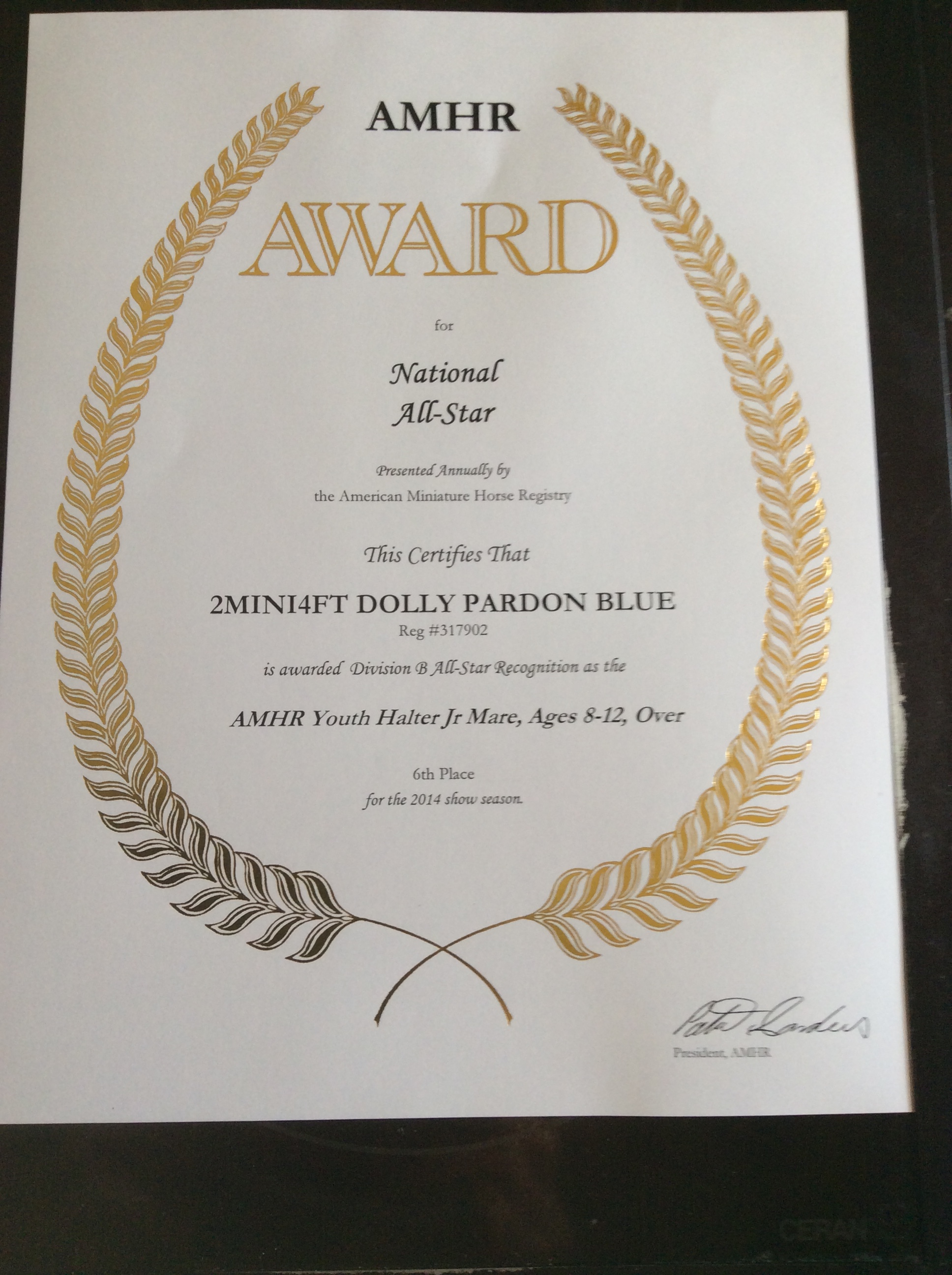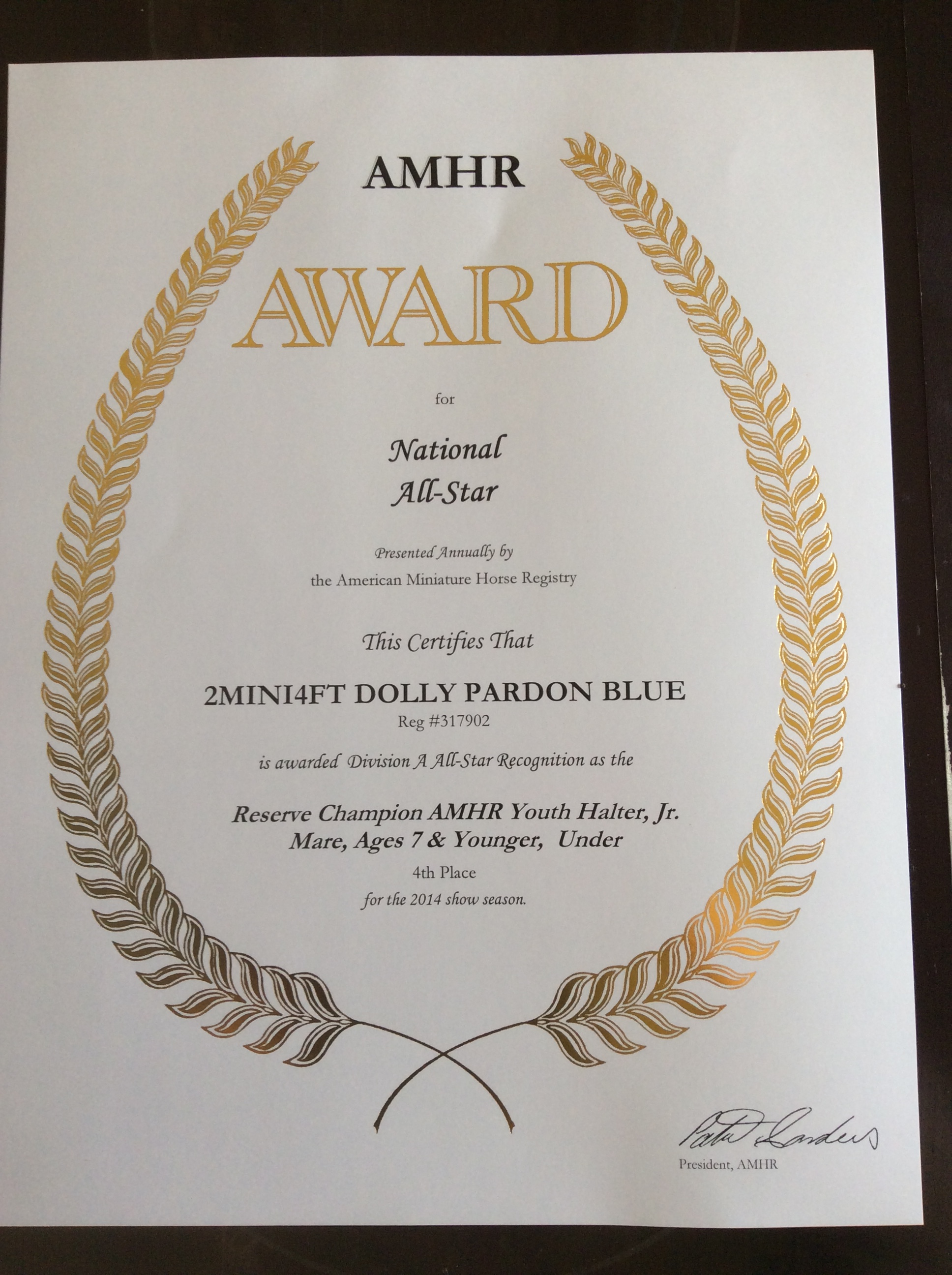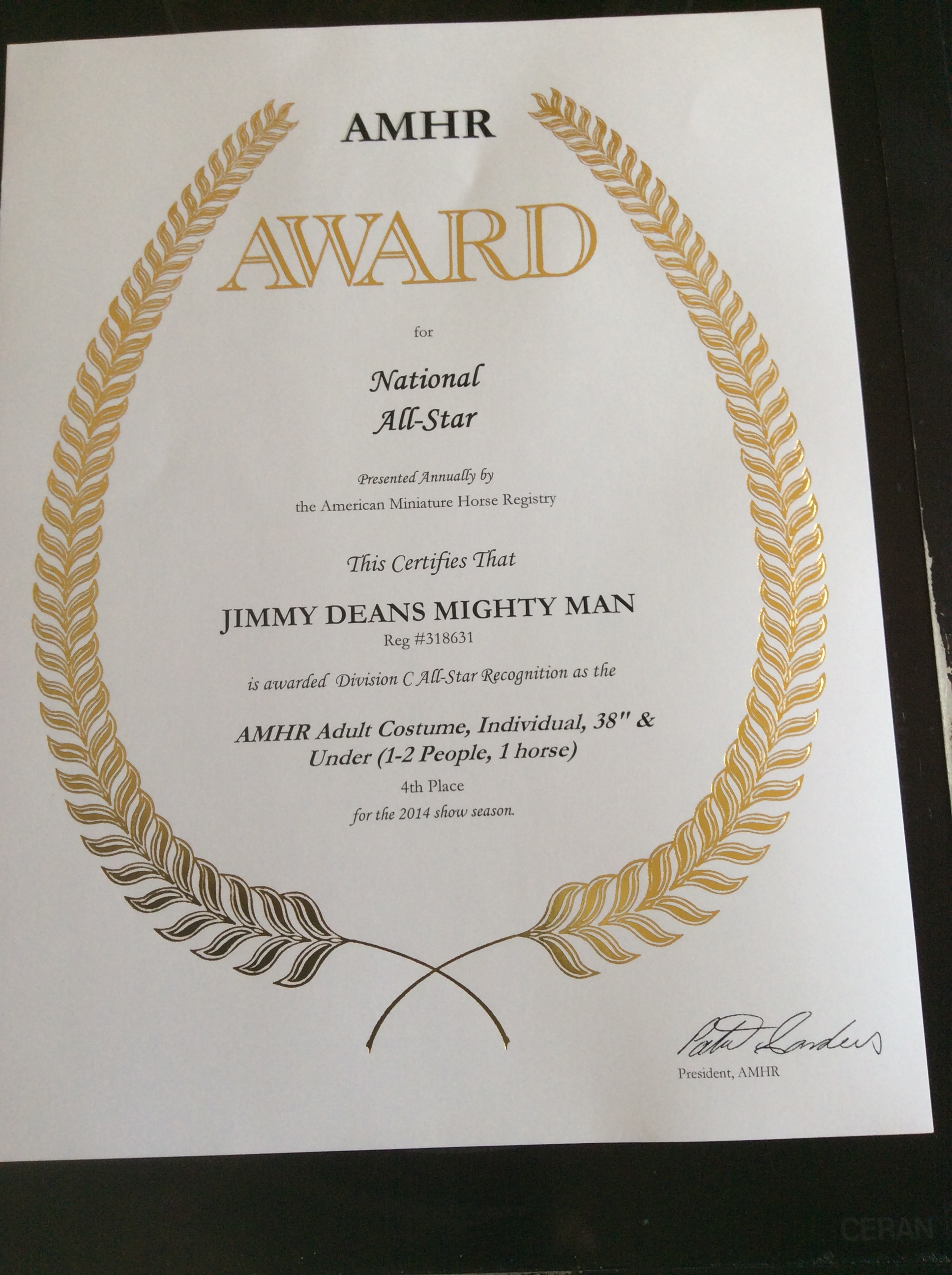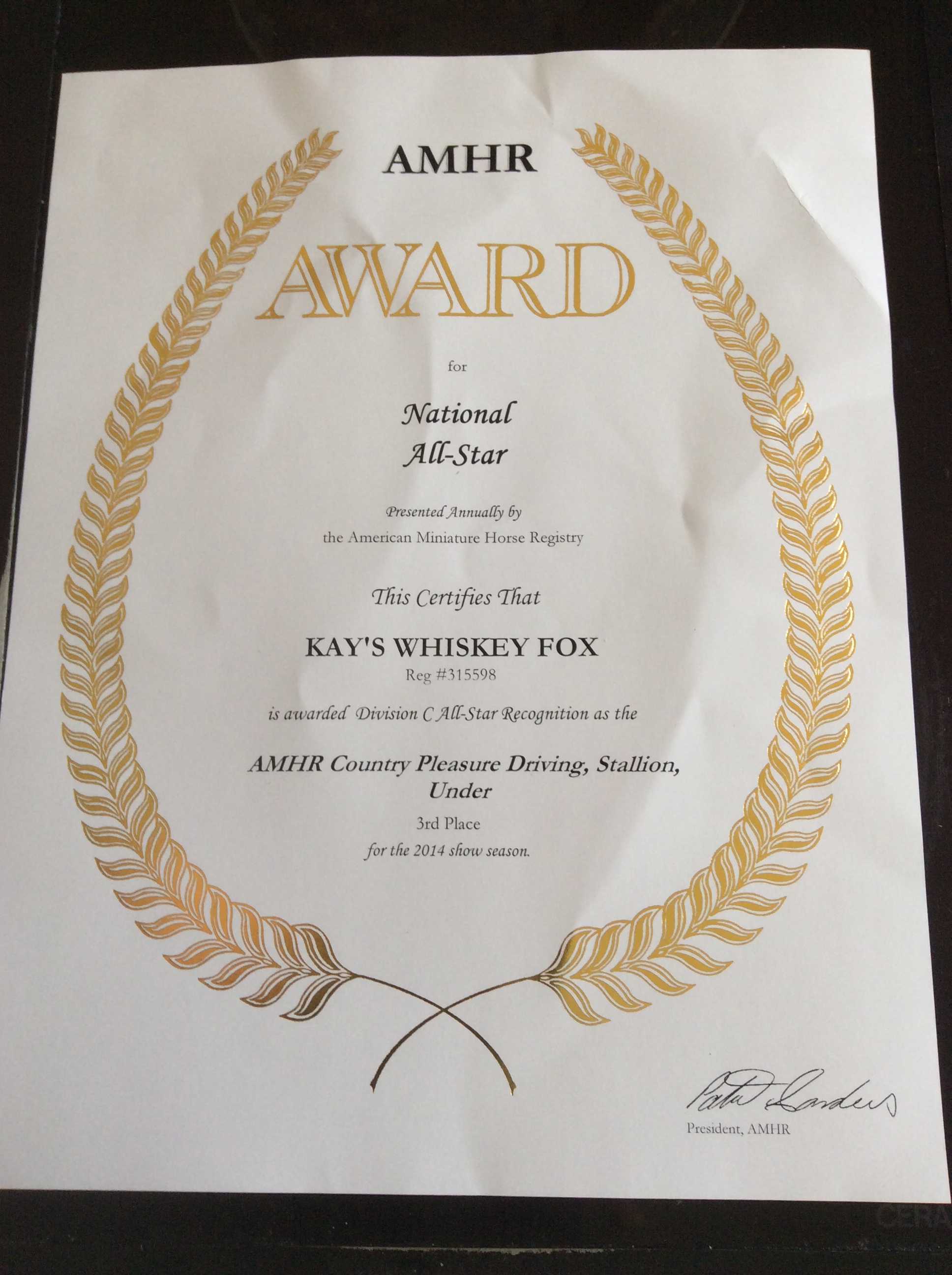 There were also a few classes that we were in the Top 20.

This just proves that you don't have to have a big name farm or big name pedigrees to do well.
The show year has barely and we already have a truck load of ribbons. We have added new classes and are very happy with the results so far. The ladies at the farm have done an outstanding job getting all the horses ready to compete.

Jimmy Deans Mighty Man aka Crispy is still rocking the Liberty class while also making a good showing in the Halter Obstacle class. He has now added Driving to his list of accomplishments. He was even good enough to go along with the Costume class at a recent show.

2 Mini 4 Ft Lili Fae aka Chloe has now turned 3 years old and is ready to show the what she can really do.  Chloe and Emily made their debut as a driving team recently. What a wonderful combination they made. They did a fantastic job for the tiny bit of training they have as individuals not to mention the next to nothing that they have together. Add on top of that the youth of them both. As this team matures we predict them to be nearly unstoppable.

Jimmy Deans Julie aka Julie has now been added to the show string. Gatlin picked this little mare out of the herd to be his last year. This year she has truly blossomed. She is a dream to drive with less than 90 days total training on her. As she progresses in her training she is sure to complete her transformation from ugly duckling to graceful swan. We fully intend to take this mare to Nationals and World next year in both Open and Youth Western Country Pleasure Driving.

Kays Whiskey Fox aka Clifford is fast coming around to being the gentleman performer we know he can be. He has also started driving which is giving him an outlet for boredom. The smarter they are the harder it is to keep them focused on the task at hand. Jumper class seems to work well for him too. This little boy has a Heck of Jump!


 
We are
already gearing up for this year's show season! 
April is going to a VERY busy month. We are attending two AMHR/AMHA shows. The first one is in Tennessee and the other one is in Florida. This is on top of foaling season. We hope the "girls" have scheduled the births of the new foals in between these shows and NOT during them.
On March 8, 2014 our little gang went to a Hazards Clinic(driving) with Amy Neary at Windridge Farm. We took our 2 "little" girls, 2 Mini 4 Ft Lili Fae(Chloe) and Jimmy Deans Julie  to this. The plan was to make sure they would be suitable horses for my kids to use in the Youth Driving classes at the breed shows this year. These mares are young and Julie hasn't left the farm since the day we brought her home. We couldn't have asked these two to do any better! They represented not only our farm well but Miniatures in general. The clinician had nothing but good things to say about their movement and willingness to try new things. After this outing, a regular flat show ring will be easy!
We have had a busy summer of showing this year.

The best part is that it was very successful.

We hope to continue the winning on into this Fall.

We are currently concentrating on the miniature horses.
Big CONGRATULATIONS to our youngest sister

Ariel Sleboda! She did an awesome job with

Jimmy Deans Mighty Man and 2 Mini 4 Ft Lily Fae

bringing home a set of Supreme Champion ribbons,

a set of Reserve Champion ribbons, and the Amateur

High Point Award. Not too shabby for the first time out!
 
More BIG Congratulations!

This time to our good friend Kay Miller and her colt

Kays Whiskey Fox. They brought home the Supreme Championship

for Jr. Stallions.
 
A Big Congratulation also goes to Jayne Arrowood and

Jimmy Deans Blossum. At their very first show they placed

5th out of 10 in Amateur Halter Obstacle. That was some stiff

Competition! Keep it up Ladies and we'll be headed for the big time!
 
Jimmy Deans Mighty Man

We cannot say enough good things about this young stallion!

He has come so far in the short time he has been with us.

Crispy is truly a pleasure to be around and now has a long and

bright future.

He has quite a collection of ribbons from his first AMHR/AMHA

shows this summer. He came away with Reserve Champion Stallions

at Halter, gamely tried Halter Obstacle and Hunter, and was

Brilliant at Liberty. We think a standing Ovation from the judges

is better than all the Blue ribbons he earned for it.