JIMMY DEANS MIGHTY MAN

2010 AMHA and AMHR 28.75 inch Buckskin

Sire : Jimmy Deans Hotstuff

Dam : Jimmy Deans Misty

www.allbreedpedigree.com/jimmy+deans+mighty+man

Another new arrival. We've been working Crispy since his arrival. This is a very

sweet colt with plenty of potential. Crispy is making a wonderful

transformation. He has great coloring and conformation

plus a willingness to learn. He has been fitted for halter class

and he is currently learning to drive, jump, and do our obstacle course.

And if that isn't enough Crispy found something he not only excels at

but enjoys as well.... LIBERTY class! At a recent show Crispy got a

Standing Ovation from all 3 judges, all the ring stewards, and the show

Photographer.  Crispy is one versatile little dude!

After showing so successfully Crispy has earned a permanent place

in our stallion line up.



Current Stud Fee: $300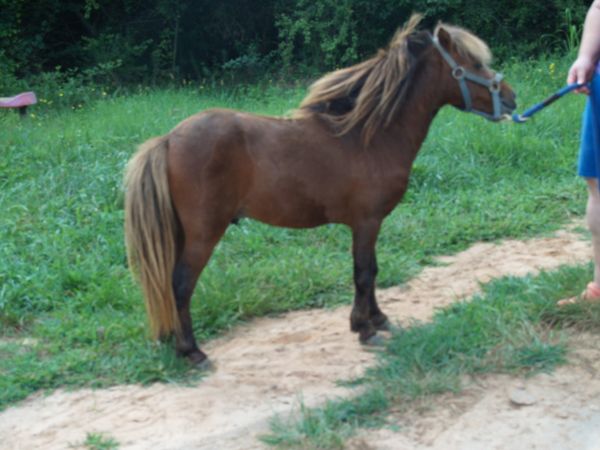 REECES REMARKABLE CAVALIER

2005 AMHA and AMHR 32"

Sire : La Vista Remarkables Re
markable
Dam : Reeces Liberty Hawk

Reece is registered as Solid Chestnut but is really a Silver Bay

www.allbreedpedigree.com/reeces+remarkable+cavalier
We are super pleased with Reece. He has done some showing locally and is trained

to drive. He is an absolute gentleman at all times. We plan to put this guy

back into the show ring in the near future. Reece's pedigree
speaks for itself.

Not only is he a Grandson of 4Gs Little Kings Alfalfa Pleasure(Reserve Natl CH) but

he's also a Grandson of NFC Remarkable Rowdy(Multi Natl High Point)
Reece has been started back driving! After a long time off there were only a few

small glitches for ALL of us. Even the kids got a chance to handle the reins.

Be on the lookout for Reece and Ariel at the shows this year.

2014 STUD FEE: $300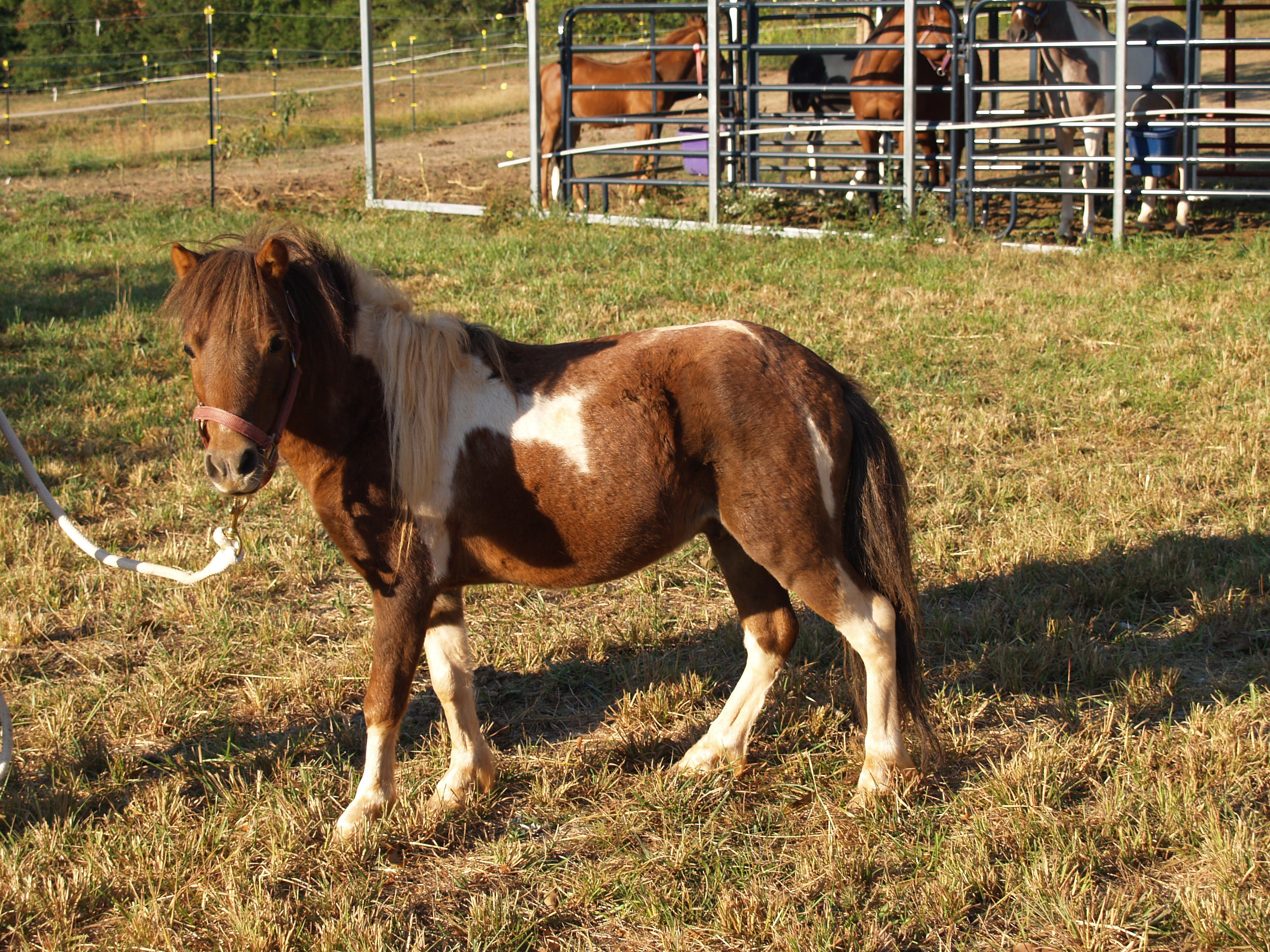 PEPPER GOES HOLLYWOOD



Reg AMHA and AMHR  32.25 inches
  He is a cute little bugger that stands just 32.25 inches tall.  He has a very sweet nature.  Pepper pulls a cart and works well on long lines.
Pepper produces very correct and trainable foals.  They love to be around people and make excellent show or therapy horses. His 2 yr old filly
recently went to her first show. She came home with Amatuer Jr. Halter Mares Supreme Champion AND the Youth High Point Award. Pretty good
for her very first show.
STUD FEE:  $300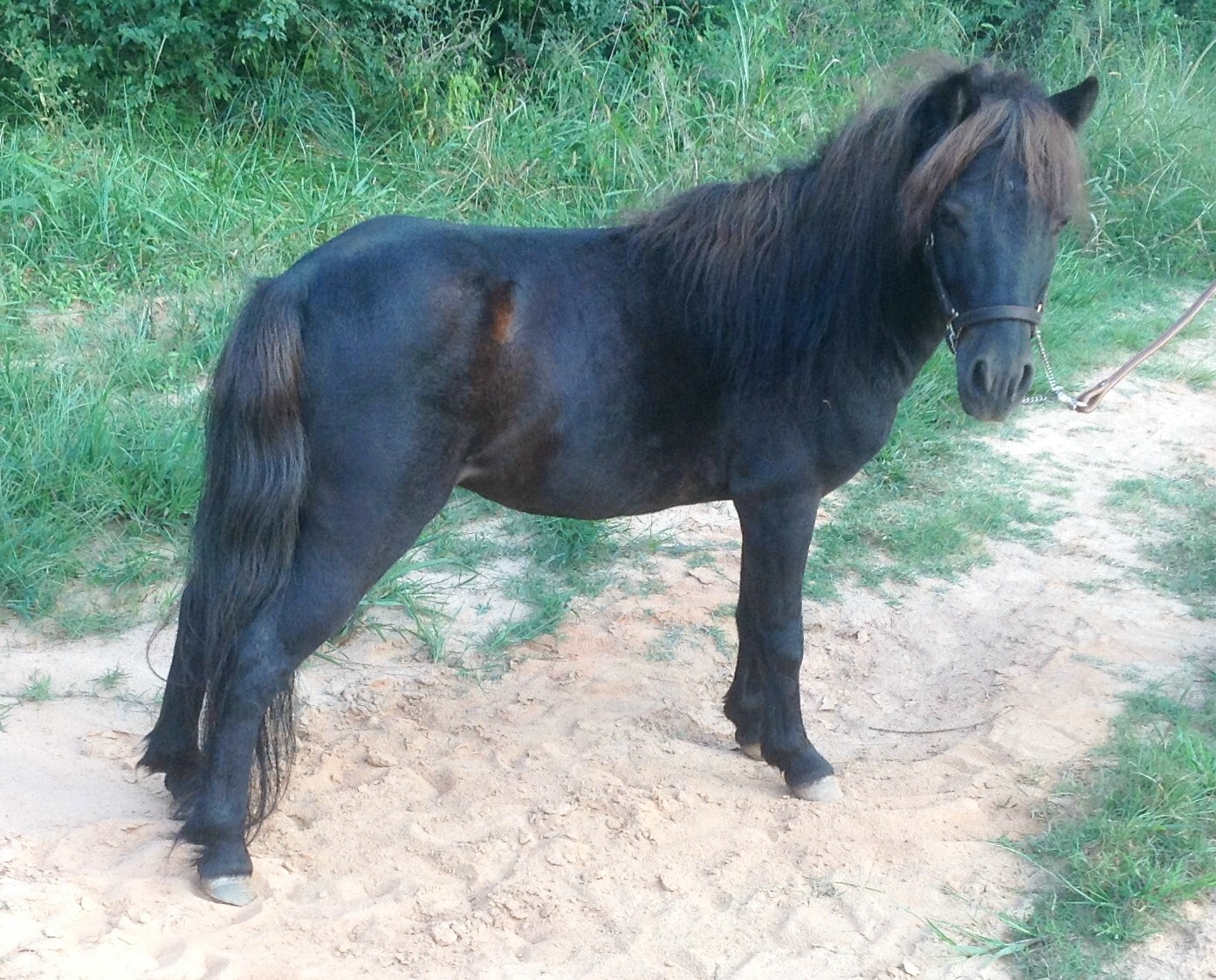 CADLE CREEKS SMOKY ROGUE

2007 Solid(faint star)Smoky Black

Reg AMHA/AMHR 33.75"

Smoky's Pedigree

Smoky is our lastest Stallion addition. He came to us under weight and without

much in the way of manners or even trust. He has come a long way in the

short time we've had him. Smoky is now driving well. The cart and harness

just complete the image of him as a miniaturized Friesian.

We have had Smoky color tested to see the genetics he is hiding.

His results are: EE -  Homozygous Black (no Red foals)
aa - Homozygous Non-Agouti (black not Bay)
nCr - Heterozygous for Cream

Smoky produced a stunning filly from our Jimmy Deans Paleface in 2012. We look forward to

repeating that breeding and a few others.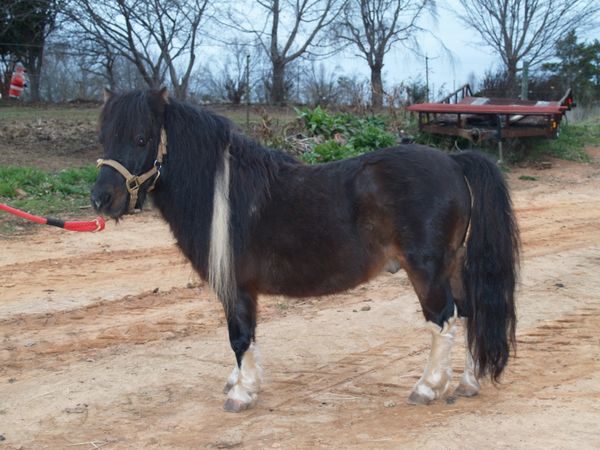 Jimmy Deans Fussbuster


www.allbreedpedigree.com/jimmy+deans+fussbuster


Fuss is double registered with AMHA and AMHR.  He stands just 29 inches tall

and is a rich Dark Bay Tobiano Pinto.  Fuss is a true gentleman and passes

that temperament on to his foals.

Fuss will stand stud to outside mares with us this year.  We look forward

to some gorgeous foals in 2013.

2013 STUD Fee  $300