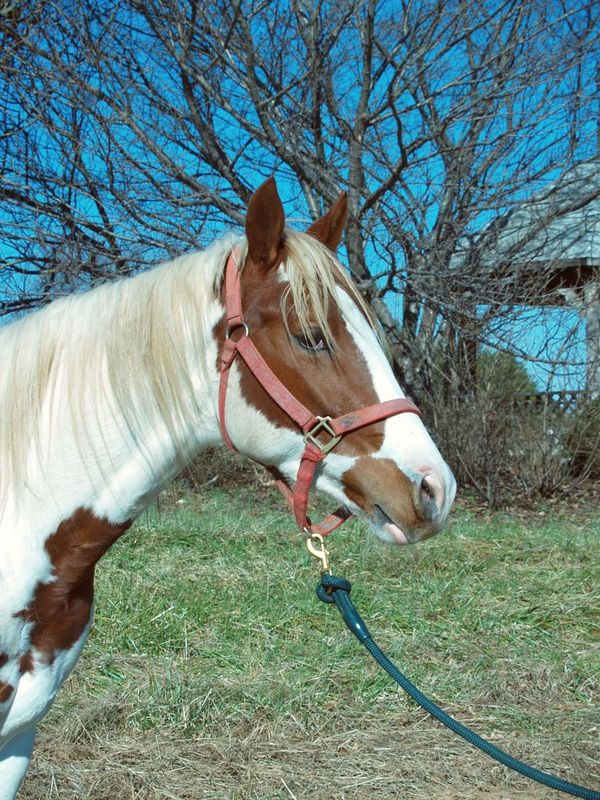 DESIGNATED MVP

2006 APHA Chestnut Tovero
(Homozygous Tobiano - Heterozygous Sabino)
 This sweet young stallion has started
 
his under saddle career.  Cowboy seems very handy.

He has done some Heeling, some Western Pleasure, some Trails,

 and now adding some Reining.  He learns fast and is eager

for more.   He stands 15.0 hands with a broad chest and big hip.

 

Cowboy is sired by Designated Hitter.  Designated Hitter is known for

producing very versatile foals.  Some of Cowboy's noteable

siblings include:

DREAM HITTER:  APHA Champion with Open points in WP(4), Trail(11), HUS(14), and Halter(41)
AM points in Trail(6), HUS(6), and Halter(82)

GRAND SLAMMER:  Open points in Cutting(6), Heading(22), Heeling(17), Reining(16),
Steer Stopping(17), and Working Cowhorse(5)
AM points in Barrels(6), Poles(6), and Reining(4)

IMA SWITCH HITTER:  215 Open Halter points and 116 AM Halter points

TRUE BLUE HIT:  Currently with 430 AM Performance points!
W. Horsemanship(116)
HS Equitation(8)
Showmanship(277)
Trail(7)
W. Pleasure(22)



Cowboy has been DNA
 
tested homozygous for the tobiano marker,

tested negative for OLWS and HYPP.

Cowboy is also negative for SB1 Sabino, all 3 Splash genes,

and the W10 Dominate White gene.

 Plus he is heterozygous for agouti.

We will continue searching for the gene he has in addition

to the Tobiano. There is obviously something else in the mix with his

head and chest marked the way they are. Then add the roaning on his body

with NO roan horses in his pedigree.


We have an Unofficial calculation for Cowboy's foundation percentages. 

Using the Foundation Horse Registry's rules he is 92.2% foundation.

Cowboy's first foal arrived 7/30/2010.  A stunning Red Dun colt.

Cowboy had 2 foals in 2011 both colts.  We had and Black and White Tovero

and a Bay Roan and White Tovero.

 
We unfortunately lost this handsome young

stallion in the Fall of 2014.